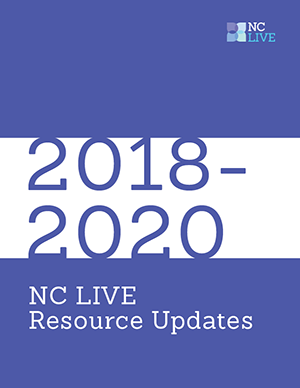 We are excited to announce the Jan 2018 - Dec 2020 NC LIVE resource selections. This year NC LIVE is proud to provide member libraries with a twelvefold return on investment, surpassing the sevenfold ROI of our last resource cycle. This means that for every one dollar NC LIVE spends, North Carolina libraries receive twelve dollars of resources. During the 2018-2020 resource cycle we will spend $3.6 million annually on content that would cost NC LIVE libraries $42.1 million annually were each library to purchase the same content individually.
You can read about resource additions, renewals, and cancellations, as well as ROI, the selection process, and our timeline at nclive.org/2018-2020-resource-updates, or download the printer-friendly brochure here: 2018-2020 Resource Selection PDF.
NC LIVE's budget has not increased in 19 years. In that time inflation of e-resources has increased 160%, dramatically reducing NC LIVE's purchasing power. While our negotiations during this cycle yielded excellent results, it is critical that NC LIVE's four Communities of Interest increase their contribution to NC LIVE if we are to continue purchasing high-quality content on behalf of North Carolina's libraries. We urge each of you to promote the value of NC LIVE to your administrators, local legislative representatives, and community members.