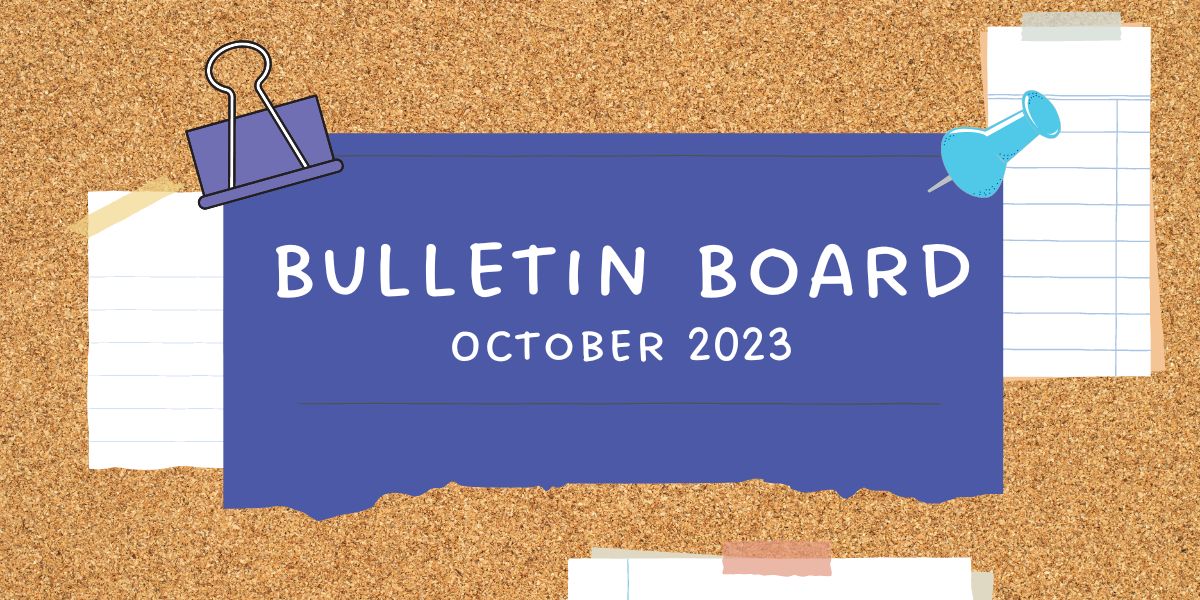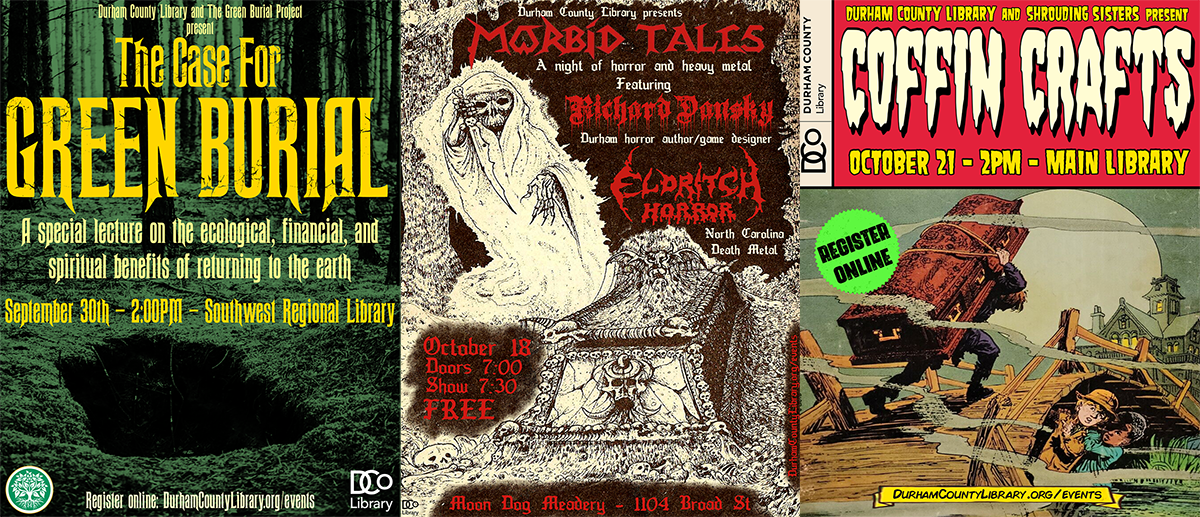 With spooky season on the horizon, this month's bulletin board features some unusual programming from the Durham County Library. Some of their recent events have been focused on death and funerals—and the questions families and community members have about them. We spoke to Larkin Coffey, Adult Services Librarian at Durham County Library, about bringing together a love of death metal music and a desire to start an honest conversation about a taboo topic.
Where did the idea for this program come from?
I started booking death-related programs at the library after reading an article in the Indy Week about Endswell Aquamation. As a fan of horror and death metal, this immediately got my attention, and when I looked into it, I was put in touch with Sara Williams from Shrouding Sisters. "12 Funeral Myths" is a presentation she's been doing for years all over the state, and I thought it would be perfect for a library program. One of the most powerful aspects of a public library is our ability to connect people with information that they can apply to improve their lives—or in this case, the end of that life. I see these programs as a way for the library to provide the community with practical information on ways they can save money or better plan a funeral but also open a space for people to talk about death in a healthy way and ask questions they may not be able to get answered elsewhere.
How did you find out about Shrouding Sisters?
When I started researching death-related programs, I initially got in touch with Anne Weston from the Green Burial Project. Natalie Killion, the head of adult services here at Main Library, had done some programs with her in the past, and that was my gateway into the world of death-positive and funeral alternative programming. Anne told me about Shrouding Sisters and I was pleasantly surprised to find they both had full menus of ready-to-go programs covering a huge variety of death and funeral related subjects; it's truly a programming librarian's dream!
What kind of feedback have you received on this program?
So far, people have loved the death-related programs we've had here. One way I judge the success of a program is by how many questions participants ask and how long people stick around afterwards, and each time, there's been great engagement from the audience. Seeing people stay after the program to talk with each other, discuss the information they just learned, and make connections shows me that this is clearly something people are excited and want to know more about. If people come to the library, learn something useful to them, and apply that knowledge to their life or take it elsewhere, I think that's a huge success for us.
Do you have any future plans for this program and partnership?
We have big plans! Based on the feedback from participants and the large waitlists each program has had, there's clearly a huge demand for this kind of content, so we'll be doing a lot more. Thanks to Anne and Sara's incredible selection of programs on offer, Durham County Library will be having some variety of death-related programming every month for the foreseeable future. On September 30, we'll be hosting a talk called The Case For Green Burial at Southwest Regional Library. On October 21, we'll be getting into the Halloween spirit with a Coffin Crafts program at Main Library, and on November 18, there will be a presentation by Hunter Beattie from Endswell Aquamation. I expect to keep doing these as long as humans have to grapple with mortality, so stay tuned for more!
You can learn more about Durham County Library's events by visiting their website, their Facebook, and their Instagram.