Wouldn't it be great if you could choose someone else's New Year's resolutions? You could get your boss to try being nicer and more supportive, your kids to earn better grades, your dogs to stop chewing up shoes, or your internet service provider to care. You'd have the power and they'd have to do the hard work. Brilliant! What if I told you that you can decide the New Year's resolutions of one special something in your life?
In October I shared a survey aimed at understanding how NC LIVE could better serve its member libraries. This initial survey asked respondents to indicate the services they would most like help with. The results are in. Based on 98 respondents submitting 281 requests, the top three services member libraries would like help with are:
Help me implement and/or better utilize technologies I already pay for (50.0%)

Help me purchase products/services from vendors at a reduced price (42.9%)

Help me market my library effectively (40.8%)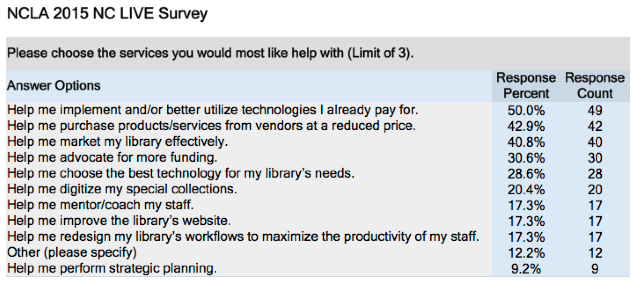 Now that we have a broad starting point, we want to delve deeper into these top three areas of need to understand exactly what types of assistance your library would benefit from. If you took the initial survey, please help us better understand your needs by taking this follow-on survey. If you did not take the initial survey, that's okay. Feel free to jump into the conversation by taking this survey; it's not too late.
This follow-up survey should take approximately 10 minutes. We are grateful for your time and input. Your feedback will help us at NC LIVE know what our New Year's resolutions will be!
https://www.surveymonkey.com/r/H539B52