Join us at an NC LIVE Regional Workshop to learn about NC LIVE, explore our resources, and gather some tips and tricks for using and promoting those resources at your own library. You'll get to meet and network with the NC LIVE team and your regional colleagues. The workshop is free for staff from member libraries, and lunch and light refreshments will be provided.
What We'll Cover
An overview of NC LIVE's structure, services, and impact
Hands-on workshop with NC LIVE resources
Tips for using, teaching, and promoting NC LIVE resources at your library
Ways to get and stay involved with NC LIVE
Networking with library staff from around the state
Librarians' Reviews of the 2016-17 Series of Regional Workshops
"The presenters were very relaxed and approachable which created the feeling of a shared learning experience rather than a simple lecture designed to disseminate facts." 
"Meeting NC LIVE staff and librarians on the various advisory councils makes me feel more comfortable about reaching out with feedback concerning future resources."
"I felt that the meeting was very productive. Caroline's subject-based handout was particularly helpful."
"Having the regional meetings was a great idea. Travel budgets are limited so it was nice to be able to take a day trip for professional development, refresh and meet the new NC LIVE staff! Please keep offering these regional meetings!!"
Spring 2018 Workshops
Our regional workshop series for the spring has concluded! Stay tuned for another round this fall! Want to be sure that you'll hear about upcoming workshops?
Join our listserv
.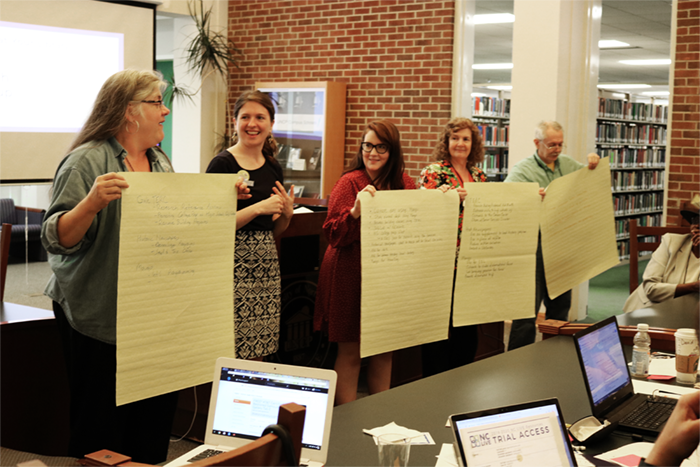 Nantahala Regional Workshop
Friday, February 9, 2018, 10:00am - 4:00pm
Sherrill Center, UNC-Asheville  |  Asheville, NC
Southeast Regional Workshop
Friday, March 2, 2018, 10:00am - 4:00pm
UNC-Wilmington  |  Wilmington, NC
Charlotte Regional Workshop
Friday, March 16, 2018, 10:00am - 4:00pm
Cabarrus County Public Library  |  Concord, NC
Mountain Regional Workshop
Friday, April 27, 2018, 10:00am - 4:00pm
Appalachian State University  |  Boone, NC