NC LIVE staff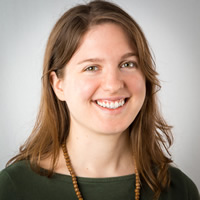 Caroline joined NC LIVE in November 2016 as the Instruction Librarian. Caroline ensures that library professionals at NC LIVE member institutions are familiar with NC LIVE resources, how and when to use them, and how to effectively incorporate them into their own library's curricula.
Caroline joined NC LIVE from Central Carolina Community College Library, where she served as the Instruction & Electronic Services Librarian. She coordinated CCCC's instruction program and taught information literacy sessions for students, faculty and staff. She also created video and research guides and managed the library's website and access to electronic resources.
Caroline grew up in Raleigh, NC, and earned a Bachelor of Arts in Economics & Organizational Management from Agnes Scott College in Decatur, GA. While pursuing her Master's of Science in Library Science at UNC School of Information and Library Science, Caroline was a research assistant and circulation supervisor at the R.B. House Undergraduate Library. Caroline has also served as a reference librarian assistant at McCain Library at Agnes Scott College and taught English in Lampang Province, Thailand.
Caroline's favorite NC LIVE resource is Films on Demand, which offers tens of thousands of award-winning documentaries, interviews, training videos, feature films and performances, historical speeches and newsreels, and more. She recommends watching His Girl Friday and the Up Series!