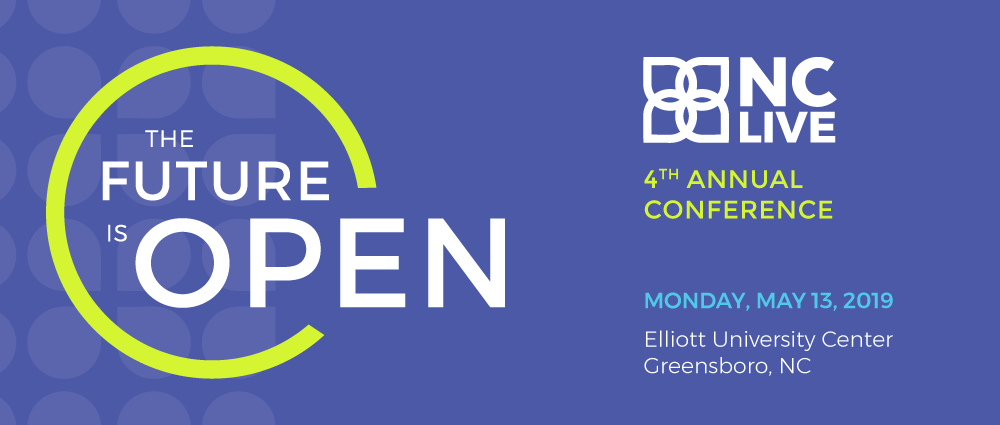 Jump to: Full Schedule (PDF) |  Session 1  |  Session 2  |  Session 3  |  Posters  |  Presenter Bios 
Additional Conference Info:  Location + Parking  |  Theme  |  Hotel Information  |  #NCLIVEOPEN
Schedule At-A-Glance
9:00-9:25 Check In, Auditorium Prefunction Area
9:25-9:30 Welcome + Logistics, Auditorium
9:30-10:00 The Future is Open, Auditorium
10:00-11:00 Keynote Address, Auditorium
11:10-12:00 Session 1
12:00-1:15 Lunch, Cone Ballroom
1:15-2:05 Session 2
2:05-2:40 Poster Sessions + Refreshments, Cone Ballroom
2:40-3:30 Session 3
3:35-3:50 Wrap Up, Auditorium
Session Descriptions
Opening Keynote:
Open Education Leadership: Aligning Practices With Values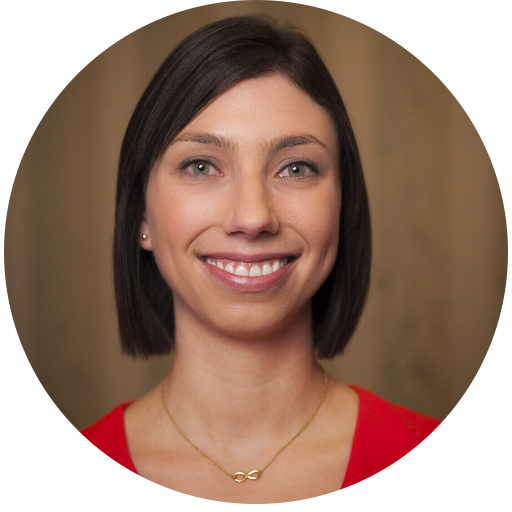 Keynote, Auditorium
Nicole Allen, Director of Open Education, SPARC
Nicole Allen is the Director of Open Education for SPARC. In this role she leads SPARC's work to advance openness in education, which includes a robust state and federal policy program, a broad librarian community of practice, and a leadership program for OER librarians.
Nicole was inspired by the idea of open education as an undergraduate student, and has dedicated her twelve-year career to advancing the vision of a world where everyone, everywhere has access to knowledge. Now an internationally-recognized advocate and leading voice in the movement for open education, she has been widely cited in the media and has given hundreds of talks and trainings in more than a dozen countries.
Nicole's career began in 2006 at the Student Public Interest Research Groups, where she worked with students across the United States to organize grassroots campaigns on higher education affordability and related issues. She organized more than 3,000 professors to sign a statement endorsing the idea of open educational resources and led a cross-country van tour that mobilized more than 10,000 students in support of open textbooks. She also helped pass state and federal legislation to reform anti-consumer practices by the textbook publishing industry, and authored two seminal reports on digital textbooks and the impact of costs on students. Alongside her issue-focused work, she also led non-partisan voter registration and mobilization efforts during the 2006, 2008, and 2012 elections.
Nicole joined SPARC in 2013 to develop and launch a program on open education. Under her leadership, SPARC's open education program has been a driving force behind numerous state and federal policy achievements, including securing Congressional funding for an open education grant program and establishing a U.S. Department of Education policy requiring open licensing for grant-funded materials. Nicole also oversaw the launch of SPARC's Open Education Leadership Program, a first-of-its-kind professional development program that is positioned to become the industry standard in the growing field of open education librarianship. She also continues to work with students through the Right to Research Coalition, and as part of the organizing team for OpenCon.
Nicole graduated from the University of Puget Sound in 2006 with a Bachelors of Arts in Philosophy. She is almost always on the go, but is most frequently found between her home in Providence, RI and SPARC's Washington, DC headquarters.
---
OER & Textbook Affordability in Your Small Academic Library
Presentation, Auditorium
Caroline Hallam, NC LIVE; Elizabeth Novicki, Salem College; Megan Rudolph, Wake Tech Community College; Erik Sugg, Wake Tech Community College; 
As the cost of textbooks continues to rise, faculty are becoming more interested in alternative course texts for their classes. This provides libraries with an opportunity to work more closely with faculty to provide alternative texts including open educational resources (OER), but it also presents some challenges—particularly in smaller academic libraries. In this session we will provide models for OER and textbook affordability programs at community colleges and independent colleges. We will discuss how to start and sustain a textbook affordability and OER initiative on a small campus, and facilitate activities for attendees to brainstorm and plan their own initiatives. We will also discuss ways NC LIVE's Open Education North Carolina initiative can help you and your faculty. Get your questions answered and discuss how you can get faculty and other stakeholders on your campus involved in textbook affordability!
Teaching with Films on Demand: Using Curated Video Content to Inspire the Future
Presentation, Alexander
Julie Raynor, High Point Public Library
In the public library we are faced with information requests from educators serving various segments of the population. This presentation will describe an effort to meet specific informational needs for educators in traditional and Homeschool settings using the archival and documentary videos available from NC Live's Films on Demand collection. The session will include strategies for performing subject specific searches in the improved FOD platform (including searches based on NC DPI Standards and Common Core curricula), as well as instruction on creating playlists for current topics for a general audience.
Site Unseen: Website Accessibility Testing for Academic Libraries with Visually-Impaired Users
Presentation, Maple
Devon Waugh and Sarah Arnold, UNC-Chapel Hill 
In light of an Office for Civil Rights complaint about the accessibility of UNC's websites including part of the library site, we began using automated checkers like WebAIM's WAVE to assess and fix issues. However, these tools don't detect everything that helps make a webpage or tool easy to use or replace the experiences of actual users trying to meet their information needs for class assignments and more. Because of this, we decided to perform a usability test of the University Libraries' database access page with users who are low vision or blind. We adapted our protocol for running a usability test to ensure our methods were inclusive for our targeted user group. We will walk attendees through the process of auditing a website using freely available tools then discuss our process for testing with users and our findings.
Librarians Venture Outside: Lifelong Learning through Gardens and ecoExplore
Panel, Kirkland
Noah Lenstra, UNC-Greensboro Department of Library and Information Studies; Becky Schneider, Person County Public Library; Libbie Dobbs-Alexander, North Carolina Arboretum
Learn how librarians form partnerships with local and state organizations to support lifelong learning outdoors. Becky Schneider will discuss how her library supports gardening and gardeners through classes, a seed exchange, and a teaching garden. The library is able to do this work through partnerships with the Cooperative Extension, Soil & Water Conservation District, and area farms, businesses, and nonprofits. Libbie Dobbs-Alexander will discuss the N.C. Arboretum's ecoEXPLORE initiative, and how it is being used to support lifelong learning outside everywhere from Madison County Public Libraries - Library Journal's 2018 Best Small Library in America -- to the Greensboro Public Library. This panel will be facilitated by Noah Lenstra of the University of North Carolina at Greensboro.
Open, Inclusive Practice and Diversity Residencies
Peer-guided Roundtable, Claxton
Deborah Yun Caldwell, Dr. Martin Halbert, Gerald Holmes, UNC-Greensboro
Librarianship is a largely white profession, and libraries often struggle with attracting and retaining candidates of color. Library diversity residencies are one answer to this longstanding problem. Diversity residencies aim to support recent graduates of color in librarianship through extended mentorship and guidance in their first post-MLS job. Learn about strategies academic libraries use to support residents of color, considerations for starting a residency of your own, and how these methods can be applied throughout the field of librarianship outside of academic libraries.
NC LIVE Summon Users' Group
Users' Group, Dogwood
Does your library use Summon? Are you in the middle of Summon implementation or interested in signing up? If the answer is "yes" to any of these questions, then come to the NC LIVE Summon User's Group Meeting! We'll discuss issues, concerns, feedback and tips from your fellow NC LIVE Summon libraries. We'll be joined by Jill Postlewait, Ex Libris North America Team Lead for Customer Success, who will be available to answer your questions and give a product update on the latest Summon features.
---
OER 2.0- What's Next?
Panel, Auditorium
Beth Bernhardt, UNC-Greensboro; Will Cross, NC State University; Caroline Hallam, NC LIVE; Jacqueline Solis, UNC-Chapel Hill
So you've been advocating for open educational resources (OER) on your campus--now what? OER has been a growing movement for several years and librarians across North Carolina have begun supporting faculty OER adoption. How can you grow your campus's OER program? How can we broaden our reach across our state and beyond? Come hear librarians from UNC-Greensboro, UNC-Chapel Hill, and NC State University share examples of how to expand and extend an OER program to support student success, use open pedagogy to transform teaching and learning, and connect with the broader community. Then share your own stories in an open discussion about what OER can do for your students, faculty, and campus as a whole. Join the conversation to explore what's next for your program and help us push this movement forward!
A CHANCE at UNCG: Leveraging Digital Media into a Pathway for First-Generation Latinx/Hispanic College Access 
Panel, Alexander
Armondo R. Collins, Dr. James Wyatt, Gerald Holmes and Paula Damasceno De Oliviera, UNC-Greensboro
The Digital Media Commons at the University of North Carolina at Greensboro prides itself on our commitment to diversity, inclusion, and access. To foster that commitment, we created a micro-messaging video project for UNCG CHANCE program attendees that taught them some of the creative, collaborative, and critical thinking skills they will learn during their university experience. UNCG CHANCE is a university-sponsored partnership with the Bill and Melinda Gates Foundation that provides North Carolina Latinx and Hispanic high schoolers with early access to college entrance resources. The Digital Media Commons taught CHANCE attendees real-world creative and critical thinking skills by creating a team-building exercise that fostered student's video editing skills. This 4-person panel discussion will describe UNCG's partnership with the Gates Foundation, the CHANCE students' video-making experience, and our plans for diversity and inclusion programming that fosters creative and critical thinking in the future.
Team up with Teachers
Peer-guided Roundtable, Claxton
Shawna Bryce and Elizabeth Madorin, Madison County Public Libraries 
Madison County Public Libraries has teamed up with teachers to offer two distinctive programs.  Literacy Leaps is a partnership with 1st through 5th grade teachers at our local elementary schools to offer one-on-one literacy tutoring for students reading below grade-level.  Teachers recommend students to the MCPL Literacy Coordinator, who then matches the student with a trained tutor for weekly instruction after school.  The second program partners with middle and high school teachers. MCPL Technology Instructor visits classrooms at these schools and instructs students on the use of NC LIVE databases specifically tailored to current assignments and projects in the hosting classroom.
Boosting Discoverability and Access
Presentation, Kirkland
Zeb Evelhoch, NC LIVE
For many patrons the library's website is the library, though what should be included and how can new patrons be introduced to your library's online presence? Explore what features should be prominently displayed on your homepage, how to increase web traffic using Google Ad Grants (only available to public libraries) and what to include in an A-Z list that will allow patrons to easily locate needed resources.
Free is Still Copyrighted 
Presentation, Maple
Cheryl Ann Coyle, Central Piedmont Community College
Copyright is confusing enough and now even more librarians, and faculty have questions about OER. At CPCC we have formed a college-wide OER committee and made sure we had a copyright person on it. While a resource may not cost you anything to use, that does not mean it is in the public domain nor that you can use it anyway you want. In this session we will address several basic concepts that can help clear up much of the copyright confusion. Creative Commons is a phrase many have heard, but don't truly understand all the variations of these licenses and how to apply and interpret them. This interactive session will clear up much of the grey areas of Copyright and provide the attendees with resources to refer to when they have questions.
No Steps Backwards: Recovering Lost Institutional Histories Through Genealogical and Historical Resources in NC LIVE
Presentation, Dogwood
James R. Stewart Jr., North Carolina A&T State University 
The F. D. Bluford Library Archives works to provide access to the history of North Carolina Agricultural & Technical State University, the largest public historically black college university (HBCU) in the country.  Often the archives receive requests for information on events and persons where there is little or no known documentation within the special collections; especially from our first 40 years when many of our records were destroyed in a fire. Today many lost histories of NCA&T are being rediscovered as the archives uses a combination of genealogical databases, digital collections, and information from other archives. This presentation will demonstrate the value of institutional librarians thinking like genealogists to find stories about forgotten groups by combining clues from their own collections with new information found in digital resources available via NC LIVE.
---
Paving the Way: One Community College's Efforts to Steer Faculty Toward OERs
Presentation, Auditorium
Grant LeFoe and Steve Smith, South Piedmont Community College
In fall 2018, after gaining approval from college leadership, SPCC's library staff began promoting NC LIVE's OENC Initiative. Overall, faculty reception was lukewarm at best, but for one instructor, the timing was perfect.
Steve Smith, Sociology Faculty at SPCC, had already been doing what he could to help minimize additional expenses for his classes, namely teaching from textbook editions that weren't brand new, so students could easily find affordable, used copies. He was investigating the possibility of replacing his traditional textbooks with open source readings, when the OENC Initiative fell into his lap. Steve received one of NC LIVE's faculty grants, and is currently teaching his first semester with OERs.
The aim of this workshop is pretty straightforward – to the tell the story of one instructor's conversion to OERs, the efforts of Steve and Library Director Grant LeFoe to inform other faculty about the benefits of this initiative (namely lowering the cost of education), and to look back on the experiences of Steve and his students with OER texts.
If I Can Do It Anybody Can Redux: Making Your Library Video
Presentation, Maple
Keith Burkhead, Guilford Technical Community College
The purpose of this workshop is to relay the experience of the staff of the Guilford Technical Community College library staff in creating a video for marketing and promotional purposes.  The presentation will cover the process of deciding a theme for the video, preparation, technical requirements, shooting the video, and bringing it to completion.  Some mention will be made of efforts to publicize the video and how this process can also serve as a team building exercise for library staff.  It is hoped that through this presentation other libraries will be inspired to create their own video and that they can learn from the GTCC library staff experience.
Innovative Pathways: Libraries fostering collaboration in the nonprofit community 
Presentation, Claxton
Christina Dooley and Linda Katzman, Charlotte Mecklenburg Library 
Nonprofit and social sector organizations play a key pivotal role in positive outcomes for undeserved populations in our communities. Many times, these organizations are competing for the same audience and funding. As Libraries, we serve as conduits to help nonprofits expand their ecosystem connections through our access to resources and tools. It then becomes our role as libraries, to provide the bridges, knowledge and know how for nonprofits solving local needs through collaboration and expand their social capital.
Mental Disorders in the Library: Understanding and Meeting the Needs of Patrons with Mental Disorders
Peer-Guided Roundtable, Kirkland
Dawn Behrend, Lenoir-Rhyne University 
The National Alliance of Mental Illness estimates that one in five children, teens, and adults suffer from a mental illness. Academic, public, and school libraries must be prepared to serve patrons struggling with mental health issues. The facilitator is a second career librarian with over 20 years of experience as a clinical psychologist. A discussion will be led to introduce participants to common mental disorders, strategies for addressing challenging patron behaviors, ways to form relationships with community partners to meet the needs of such patrons, and programming/outreach ideas to promote mental health awareness.
Learning in the Open: Open Pedagogy from the Library Perspective
Panel, Alexander
Kyle Denlinger, Amanda Foster-Kaufman, Rebecca May, Wake Forest University; Samantha Harlow; UNC-Greensboro
The core principles of open content--the ability to retain, reuse, revise, remix, and redistribute (Wiley, 2014)--gave us open source software, open access scholarship, and open educational resources (OER). Now, an emerging set of teaching philosophies is applying these principles to how we teach and how our students learn. Open Pedagogy, as it has come to be known, encourages teachers to break down the walls that define the traditional classroom and to build authentic opportunities for students to contribute to and build upon work already being done in the open. In this panel, we will celebrate the work of some of the pioneers of the Open Pedagogy movement, share examples of Open Pedagogy work being done in the context of library and information literacy instruction, and unpack some of the issues that Open Pedagogy forces us to confront.
UNC Shared Print Initiative and the Collective Collection
Presentation, Dogwood
Anna Peitzman and Leah Dunn, UNC-Asheville
Thirteen partner-libraries in the University of North Carolina system are engaged in a project to sustain the cultural legacy of the print record by assessing and determining shared print monograph retention schedules. The presentation would remark upon the need for a foundation upon which to build a future shared "collective collection." The presenters will discuss the process, including an analysis of overlap and uniqueness of titles and the development of a framework for identifying, marking, and sharing titles tagged for long-term retention. The "collective collection" concept, utilizing continuously developing analysis tool technologies, will allow the partner libraries to better meet the needs of their patron populations, and foster creative and critical approaches to collaborative preservation and collection development strategies.
---
Why Don't Humanities Faculty Publish Open Access?
Poster, Cone Ballroom
Lynnee Argabright, UNC-Chapel Hill School of Information and Library Science 
Since 2007, UNC has officially been an Open Access campus, yet only 18% of faculty publications are Open Access (according to Scopus on December 9, 2018), and only 2% of faculty publications have been stored on UNC's Open Access Repository, the CDR. The Scholarly Communications Office, part of the University Libraries since 2010, only just had, in January 2019, a link added to the University Libraries' website home page to get to the department's website. If services are to be provided for UNC faculty, and faculty are to accessibly utilize Open Access publication tools, faculty first need to be aware of its existence. This poster session describes the publishing-related information needs of humanities faculty and how the University Libraries' Scholarly Communications department has the potential to target services and events to answer these needs.
Current Needs and Future Success: Revisit International Students' Academic Information Seeking Behaviors at U.S. Universities
Poster, Cone Ballroom
Yuqiao Brigitte Cao, UNC-Chapel Hill School of Information and Library Science 
International students have made a visible presence on college campuses in the United States, and the growth of international student population is unprecedented. The large international student body not only reflects the education success of universities, but also contributes to the future of education. As much as academic libraries concern about students' information literacy, they also serve as a significant factor in shaping international students' information seeking behaviors and achieving academic success. This poster presents an in-depth literature review of research articles published since 2000 on academic library services and information literacy education for international students. The findings are focusing on the study of international students' academia related information needs and information seeking behaviors, examining emerging issues in information interaction, and identifying opportunities to problem-solving. The results indicate that most research studies recognize international students' concerns and information behaviors to resolve these barriers at U.S. universities. Based on the literature review and the presenter's personal experience as an international student, the poster includes perceived emerging issues and possible future implications for academic libraries to better serve international students. After recognizing international students' information needs and behaviors in academic-related researches, the poster also incorporates suggestions to academic librarians and designs of workshops and educational tools to assist diverse information needs and academic success.
Going the Next Mile: How 21st Century Initiatives like Mobile Makerspaces and Bookmobiles Can Break Down Barriers of Patrons' Access to Information Services in Low-Income Environments
Poster, Cone Ballroom
Catherine M. Gallagher & Kristen Stockdale, UNC-Chapel Hill School of Information and Library Science 
By exploring ways to bring services to patrons outside of the library, such as Mobile Makerspaces and Bookmobiles, through a critical race theory lens, library staff can use these nontraditional programming initiatives to break down the barriers between public libraries and patrons' access to information.
Creating a Curriculum for all: Open Access Teaching Materials for a Public Library Setting
Poster, Cone Ballroom
Katie Kehoe & Rachel~Anne Spencer, UNC-Chapel Hill School of Information and Library Science 
Digital literacy for all; this is the mission of the Community Workshop Series (CWS). While the future is open for many, for some, without access to the internet or computers, the future is closed. Our organization seeks to bridge the digital divide to create a more open, accessible future for all. We have engaged in a 12 year collaboration between the Chapel Hill, Durham, and Carrboro Public Libraries, and SILS to teach digital literacy courses for free. Each semester, we teach about 150 to 200 students, across 42 workshops, with over 15 volunteer instructors.This poster will discuss curriculum we have developed through this collaboration to teach digital literacy skills. Specifically, we will discuss our recent project to create an open access curriculum for public libraries seeking to develop or improve their own digital literacy classes. We hope that this work will have a positive impact on librarians' ability to serve new computer users, bridge the digital divide in their communities, and create a more open future for all.
Co-creating Digital Projects: Community-Driven Archives and Scalar
Poster, Cone Ballroom
Leah Epting, UNC-Chapel Hill School of Information and Library Science 
This year, The Southern Historical Collection's Community-Driven Archives program has expanded its digital projects to include two participatory Scalar websites. We designed these projects to fulfill different needs for different communities, but each of them can be expanded upon, and built by UNC staff or by community partners in a cooperative arrangement. The Scalar platform offers easy transfer of authoring privileges and hosting abilities so that communities can take over a site if they wish. The poster discusses the ways in which the CDA has built projects for the Historic Black Towns and Settlements Alliance and San Antonio African American Community Archive and Museum, and how those communities' differing needs were met and expressed in the design.
Meeting Them Where They Aren't: New Paths to Fulfill the Information Needs of First Generation College Students
Poster, Cone Ballroom
Cary Gentry, UNC-Chapel Hill School of Information and Library Science 
First-generation college students are expected to navigate a campus environment for which they are ill prepared. This study investigates what services academic libraries are currently providing for first-generation students, and whether they align with the identified needs of this population. The literature suggests that the while libraries may offer targeted services, first-generation students are less likely to enter the library and utilize these services. This study concludes that the most effective programs take librarians outside of the library and encourage librarians to become better integrated into undergraduate life. By doing this first generation college students are more likely to become consistent users of their academic library.
Charting Wilson: Using 360 Video to Increase Library Accessibility
Poster, Cone Ballroom
Nadia Clifton, UNC-Chapel Hill School of Information and Library Science 
Increasing access is an issue all libraries face. Special collections repositories in particular feature numerous barriers for accessing materials. Security measures for collection materials, such as cameras and a registration process, compound anxiety patrons have toward visiting the library. These measures create a psychological barrier. The Wilson Special Collections Library at UNC Chapel Hill utilizes security measures, but includes physical barriers as well as the psychological ones inherent to special collections. The library is housed in a grand and beautiful, yet intimidating building with a floor-plan that is not intuitive. In addition, there is one wheelchair accessible entrance to the side of the building, and visitors are not always aware of its location. To increase accessibility for all patrons of Wilson Library, I am using a 360-degree camera to film public spaces in the library. Similar to google maps, viewers will be able to "jump" to different locations and explore the library digitally before visiting in person. Each location within the video will include narration that introduces the space and explains confusing aspects of the building, such as how the room numbers function. Housing the video on the library website for visitors to explore will help alleviate psychological and physical barriers to Wilson Library.
The Right To Happily Ever After: Representing People of Color and LGBTQ+ Populations in the Adult Romance Sections of Public Libraries
Poster, Cone Ballroom
Holly Roper, UNC-Chapel Hill School of Information and Library Science 
Romance is a genre where people of color (POC) and lesbian, gay, bisexual, transgender, and queer (LGBTQ+) populations are historically excluded from mainstream library collections. We will first discuss critical race theory and counter-stories, and explain how POC and LGBTQ+ romance is a counter-narrative to the white, heteronormative romance novel. We want to examine how local libraries represent romantic counter-stories in their romance sections. We examined the collections of four libraries that serve demographically different communities using methods of title checking and spatial analysis of the collection to determine how these libraries represent POC and LGBTQ+ romance.
Cultural Literacy & Library Displays
Poster, Cone Ballroom
Christine Anderson, UNC-Greensboro Library and Information Science Program
Displays offer libraries unique opportunities to educate and encourage conversations within their communities. Because libraries are open, free, and common shared spaces, their displays and exhibits are a chance to broaden cultural literacy by offering patrons a glimpse into other cultures, ideas, and experiences than they would normally seek out on their own. Kimbel Library has recently restructured its display opportunities to increase cultural literacy in patrons and staff through more diverse topics and cultural representation.
Assessing the Library Information Needs of Transgender and Gender Non-Conforming Parents in North Carolina
Poster, Cone Ballroom
Brandie Kay Ragghianti, UNC-Greensboro Library and Information Science Program
This poster will present a research project (currently in progress) related to the library information needs of transgender and gender non-conforming parents in North Carolina. Recent studies suggest that non-cisgender parents have unique access and information needs that are not being met by libraries. The purposes of this project are: to assess how this population currently utilizes libraries in North Carolina, to identify information needs, and to provide recommendations for removing barriers to access in libraries.
Accessibility to Emerging Technology in the Public Library Systems: How VR can be a gateway to endless possibilities in a virtual space
Poster, Cone Ballroom
Donte' Perry, North Carolina Central University School of Library and Information Sciences
When you hear the words "Virtual Reality," what typically comes to mind? Future technology? The next leap forward in technology? Although the answers are yes, Virtual Reality systems are here now and are becoming increasingly cost-effective. Many people have started to invest in this interactive technology hoping to keep pace with an ever-changing world. The library can continue in its place as a wealth-of-information hub: Think and Act Forward. By introducing VR and AR (augmented reality) technology in a library system, many would get their first real introduction to next-generation technology. Outside of conferences or demonstrations, most customers do not get a proper introduction or chance to experience what VR/AR has to offer. The library can be a game changer by creating programs where library staff can utilize these systems to develop interactive and engaging programs. They would see a rise in participation by library card holders and an increase in usage of library systems.
#UNCGCreativityCruiser Sparks Mobile Engagement Program
Poster, Cone Ballroom
Courtney Bobbit and Dillon Heath, UNC-Greensboro Library and Information Science Program
The Teaching Resources Center (TRC) of the UNC Greensboro (UNCG) created a Mobile Engagement Program to serve the literacy and curricular needs of a public high school and a child care center located on the campus. This program was funded in part by The Library Services and Technology Act (LSTA) grant program through the State Library of North Carolina. The challenge for both groups is that they are limited in terms of mobility and time to access library resources on site. The TRC purchased a Book Bike to start delivering books to the high school at lunchtime to increase students' access to library materials. Based on the success of the Book Bike initiative (the Creativity Cruiser), the TRC staff sought funding to create kits that specifically addressed literacy and curricular needs of the two distinct user groups. The kits are brought to each school via the Creativity Cruiser along with supplemental materials from the TRC collection. Students and teachers check out the materials and may return the materials at the next Creativity Cruiser visit. This poster will report on notes from creating the Mobile Engagement Program, usage by students and teachers, and other novel findings of the project.
Documenting Life
Poster, Cone Ballroom
Darlena Glenn, UNC-Greensboro Library and Information Science Program 
As a history enthusiast, I decided to start documenting my life through pictures. Over the years, I have taken thousands of photos of myself, family & friends, sites, and events. I envision a library maker space to document one's life through pictures and words. A couple of years ago, I put together a Starr G. Publishing Writer's Notebook for a few church saints to help them organize their personal writing experiences. Starr G. Publishing is committed to helping others write the story they want to tell. To build a bridge from photos to writing or perhaps to offer another way to tell a story in pictures, I want to present "Documenting Life" with my picture collages.
Partnering for Success: The Power of Community Collaboration for Effective Outreach
Poster, Cone Ballroom
Raven Miller, North Carolina Central University School of Library and Information Sciences; Taylor Atkinson, Union County Library System
Rural public libraries often face the challenge of equitably serving the needs and wants of all community members with a shrinking budget, and champion creative solutions to meet those needs. The Union County Library System (UCLS), a 2019 IMLS National Medal Finalist, works to maintain and create new opportunities and partnerships to effectively serve our entire county from one branch located in the City of Union, South Carolina. Each of our community partnerships and outreach efforts is crucial to the development of our underserved county. Having these organizations operate in collaboration with the library and even within the library has been a major asset to the community, and allowed us to reach and interact with a diverse population of high-need individuals in the county. Our poster will detail these partnerships, examine our outreach and organizational statistics, and determine the correlation between the two.
Christine Anderson is in marketing and outreach at Kimbel Library, Coastal Carolina University. She is currently in her first year of the MLIS program at UNC-Greensboro. After more than 15 years as a freelance journalist, photographer, and travel writer, Christine would like to turn her focus toward libraries as a platform for cultural education within communities.
Taylor Atkinson received her MLIS from the University of South Carolina in 2015. From 2015-2017, she served as the librarian and grant writer for the Majuro Cooperative School, a Pre-K-12 school in the Marshall Islands. In 2017, she became the Assistant Director of the Union County Library System (UCLS), which was recently named a finalist for the 2019 IMLS National Medal. At UCLS, she wears many hats including: overseeing marketing, programs and outreach, providing Mental Health First Aid trainings, and serving as the academic librarian for the University of South Carolina Union campus.
Sarah Arnold is the Content Strategy Librarian with the User Experience and Assessment Department at UNC Chapel Hill Libraries. In this role, she works with content owners to improve the Library's website, research guides, and other online tools for all users. She holds a MSLS from UNC Chapel Hill.
Dawn Behrend is an Instruction and Reference Librarian at Lenoir-Rhyne University, where she serves as the liaison for psychology, counseling, mathematics, computer science, and business. Ms. Behrend also manages the library's social media and 3D printing lab. She holds a B.A. in Psychology, M.A. in Clinical Psychology, Master of Business Administration, and Master of Library Science. Ms. Behrend has worked for 20 years as a clinical psychologist and is a second career librarian. Ms. Behrend continues to work in private practice in addition to her work as an academic librarian.
Beth Bernhardt is the Assistant Dean for Collection Management and Scholarly Communications for the University Libraries at UNCG. She was previously Electronic Resources Librarian at UNCG, and has consulted with a number of other libraries and organizations. Prior to coming to UNCG in 2000, she was Associate Director of Library Services at Greensboro College. She is the main conference director for the Charleston Library Conference, and co-editor of the Charleston Conference Proceedings series.
Courtney Bobbitt is a student in the MLIS program at UNC Greensboro and is currently finishing up her second year in the program and first year in the School Library program. She is a graduate assistant in the Teaching Resources Center at UNCG and works in University Archives. Courtney has a background in Public History and hopes to become a high school librarian after graduating in the spring of 2020.
Shawna Bryce is a Branch Manager and Technology Instructor for Madison County Public Libraries where she has served for four years.  In her first career, she taught high school English for 18 years. Upon relocating to the mountains of North Carolina, she found herself an "accidental librarian", and thereby fulfilled her top two childhood dreams: being a teacher and working at the library. Shawna has a Master's of Education in Literacy and is now pursuing her Master's of Library and Informational Science at UNCG. She considers herself a lifelong student and teacher and loves working for the Best Small Library in America.
Keith Burkhead is a Reference Librarian and has been at Guilford Technical Community College since 1996. He's responsible for the delivery of library services at the GTCC Greensboro Campus. Keith received his BAS from Samford University, has a Master of Divinity from Southeastern Baptist Theological Seminary, and an MLS from NC Central.
Deborah Yun Caldwell is a Diversity Resident Librarian at University of North Carolina at Greensboro. She was previously a Graduate Student Assistant at University of North Texas Libraries. She holds a Master of Information Science from University of North Texas.
Yuqiao Cao is a first-year graduate student at UNC-Chapel Hill's Information and Library Science program and a graduate digitization assistant at NSCU's digital libraries. She discovered her interest in library science while working at David M. Rubenstein Rare Book and Manuscript Library and decided to focus her study on archives and records management. With a background of studying Psychology and Education Studies at UCLA and Liberal Studies at Duke University, Yuqiao is also enthusiastic about academic librarianship for social science and library education programs. Yuqiao's international background offered her the interest of promoting diversity and inclusion in libraries
Dr. Armondo Collins is Head of UNCG's Digital Media Commons and an adjunct professor with the university's African-American and African Diaspora Studies Program.
Cheryl Coyle brings her passion for copyright and instruction to NC LIVE this year. While working at a for-profit 4-year college, she became interested in copyright, both to benefit the college and for the protection of students' work. Since 2013, Cheryl ventured back into the nonprofit sector in her current role as Senior Librarian, Levine Campus at Central Piedmont Community College where she manages a satellite campus designed for university transfer students. A few years ago she completed an 8-course program earning her a Certificate in Copyright Management through SLA and CopyrightLaws.com. She also serves as a member on both the CPCC Library Copyright Committee, CPCC OER Committee and is working on ways to facilitate more copyright discussions among professional staff and faculty in colleges.
Will Cross is the Director of the Copyright & Digital Scholarship Center in the NCSU Libraries, an instructor in the UNC SILS, a Mozilla Open Leader, and an OER Research Fellow. Trained as a lawyer and librarian, he guides policy, speaks, and writes on open culture and navigating legal uncertainty. As presenter coordinator for the ACRL Scholarly Communication Roadshow, Will has developed training materials and workshops for international audiences from Ontario to Abu Dhabi. Will serves as co-PI on three IMLS-funded projects focused on OER and training for librarians.
Kyle Denlinger is the eLearning Librarian at the Z. Smith Reynolds Library at Wake Forest University. Kyle teaches a fully-online version of the library's 1.5-credit information literacy course and supports many other online education and open pedagogy initiatives in the library and around campus.
Mrs. Paula Demasceno De Oliviera is the Instruction Coordinator for the Digital Media Commons. She is currently working towards a Master's Degree in Library Science at UNC-Chapel Hill.
Libbie Dobbs-Alexander is an environmental educator from the North Carolina Arboretum in Asheville. She is the program coordinator for ecoEXPLORE, a community science program for kids. Before coming to the Arboretum Libbie worked in many different environmental education and outreach positions throughout the country. She is passionate about bringing the wonders of the natural world to people big and small!
Christina Dooley: Librarian, Educator, and proudly, Life-long Learner. Christina has been with the Charlotte Mecklenburg Library since 2014 and a member of the Nonprofit Services Team since 2016. She was appointed Team Lead in 2017 and serves as the Foundation Center Funding Information Network (FIN) Lead. Christina received her MLIS from the UNCG and a Professional Certificate in Business Essentials for Nonprofit Organizations from Wake Forest.
Zeb Evelhoch is Electronic Resources Librarian at NC LIVE and is responsible for electronic resources management to increase efficiency and improve library access to NC LIVE's collections.
Amanda Foster-Kaufman is an Instruction Librarian at the Z. Smith Reynolds Library at Wake Forest University. Amanda teaches multiple sections per year of the library's 1.5-credit information literacy course, and is currently developing a credit-bearing course on critical approaches to Wikipedia.
Leah Epting is a graduate research assistant with the UNC Southern Historical Collection Community-Driven Archives and Community Histories Workshop. She is a MSIS student in Archives and Records Management and her research interests include Digital Humanities and information representation in and of Archives.
Catherine M. Gallagher is a first-year MLS student at UNC Chapel Hill. With a background in studio art and art history, she's passionate about incorporating the arts into school librarianship. Specifically, she is interested in exploring issues concerning CRT, intersectionality, and spatial justice in the school media center setting. Upon graduating, she plans to return to her hometown of Chicago, IL and be a school librarian.
Caroline Hallam is the Open Educational Resources Librarian at NC LIVE. Caroline oversees Open Education North Carolina, an initiative to reduce the cost of higher education and improve student success across North Carolina's colleges and universities.
Samantha Harlow is the Online Learning Librarian at UNC Greensboro, with some past jobs including an Instructional Technology Consultant for the UNCG School of Education.  She works with librarians at UNCG and beyond on Open Education Resources (OER) training and incorporating OER materials and open pedagogy into library online learning objects, online instruction, and beyond.
Dillon Heath is a graduate assistant in the Teaching Resource Center at University of North Carolina at Greensboro. He is enrolled in the MLIS program at UNCG and is pursuing a career in academic librarianship.
Mr. Gerald Holmes is an Associate Professor, Reference Librarian, and Diversity Coordinator for UNCG's University Libraries.
Grant LeFoe is Library Director for South Piedmont Community College.
Dr. Noah Lenstra is Assistant Professor of Library and Information Studies at UNC-Greensboro. He completed his PhD at the University of Illinois in 2016. He is on the Advisory Board for the Public Library Association's Initiative to Advance Health Literacy and Consumer Health Information in Public Libraries (funded by NLM).
Elizabeth Madorin is the Literacy Coordinator for the 2018 Best Small Library in America at Madison County Public Libraries.  Previously, she taught Spanish for over 20 years in Missouri and North Carolina.  A move to Madison County opened up an opportunity to use her teaching experience at the library with a grade school tutoring program and a high school equivalency program for adults.
Rebecca Petersen May is Public Services Archivist in Special Collections & Archives at Z. Smith Reynolds Library at Wake Forest University. Her responsibilities include reference, outreach, instruction, and student supervision.
Raven Miller is a 2012 graduate of Furman University with a Bachelor's degree in Urban Studies and is currently pursuing a Master's of Library Science degree through SLIS at North Carolina Central University. Raven currently serves as the Programs and Outreach Coordinator for the Union County Library System. Within this role she serves as a representative and liaison for the library while at work and out in the community. She coordinates and executes community outreach efforts for programs and services, including providing programs for all ages.
Elizabeth Novicki is Director of Libraries and a member of the faculty at Salem College. She serves on the College's Dean's Council, Curriculum Committee, and General Education Committee. She also serves on the OER Advisory Committee for NCLIVE.
Donte' Perry is a first-year graduate student at NC Central University in the School of Library and Information Sciences program and a Senior Library Assistant at Charlotte Mecklenburg Library. During his two years with CMLibrary, he had a wide range of experiences ranging from circulation services, teen programs, and more. Donte' true passion lies in technology innovation, he is currently working on several tech base projects, the most recent involving cutting-edge and next-gen technology which is Virtual Reality (VR) and Augmented Reality (AR).
Brandie Ragghianti is an LIS graduate student at UNC Greensboro. She has worked as a public historian for over a decade, specializing in the histories of marginalized communities. Brandie holds a BS in Public History from East Carolina University and an MA in U.S. History and Museum Studies from UNCG.
Julie Raynor has worked at the High Point Public Library since 2006. She manages their digital collections and provides instruction for staff and the public on accessing the digital collections. She is the Chair of NCLA's Technology and Trends Roundtable and serves on the Executive Committee for the NC Digital Library consortium.
Megan Rudolph, Wake Technical Community College, RTP Campus Librarian: Megan Rudolph has worked with community colleges for the past 10 years. She currently oversees the RTP Campus Library at Wake Technical Community College. She received her MSLS from UNC-Chapel Hill in 2008 and her MA in English from ECU in 2015.
Becky Schneider has worked in public libraries in North Carolina, Virginia and Massachusetts. At the Person County Public Library, she helped establish the library's teaching garden and seed library. In addition to her library career, she briefly co-owned a small farm in Virginia.
Steve Smith is a professor of Sociology at South Piedmont Community College Both are strong proponents of keeping higher education affordable.
Jacqueline Solis is the Director of Research and Instructional Services in the University Libraries at University of North Carolina at Chapel Hill.  Jacqueline serves on the UNC System OER/Affordability Project and attended the Open Textbook Network Summer Institute in 2017.
James R. Stewart Jr., is the Archives and Special Collections Librarian at North Carolina Agricultural and Technical State University in Greensboro, NC. He is a 2014 graduate of the Library and Information Studies program at the University of North Carolina at Greensboro where he began his career in archives as a digitization student assistant. Since then he has worked as a library specialist and digital projects librarian, along the way developing a passion for biographical research and building digital collections. At NCA&T James researches the combination of genealogy and digital collections to reconstruct lost histories and biographies.
Erik Sugg, RTP Instructional Librarian, Wake Technical Community College: Erik Sugg is the Instructional Services Librarian for Wake Technical Community College's RTP Campus and a former Youth Services Librarian for Wake County, (where he was known as "Mr. Erik.") He moderates his library's discovery system and enjoys reference, instruction, and serving a wide student demographic.
Devon Waugh is a graduate student in the Information Science program at UNC-CH with a focus on accessibility and user research. She works in the Undergraduate Library teaching information literacy and design at UNC-CH as well as in Perkins Library evaluating the accessibility of Duke University Libraries.
Dr. James Wyatt is Sr. Director of College Completion Initiatives with the university's Enrollment Management department.
---
Elliott University Center
UNC-Greensboro
507 Stirling St
Greensboro, NC 27412
336-334-5510 (phone)
Layout of Elliott University Center - First Floor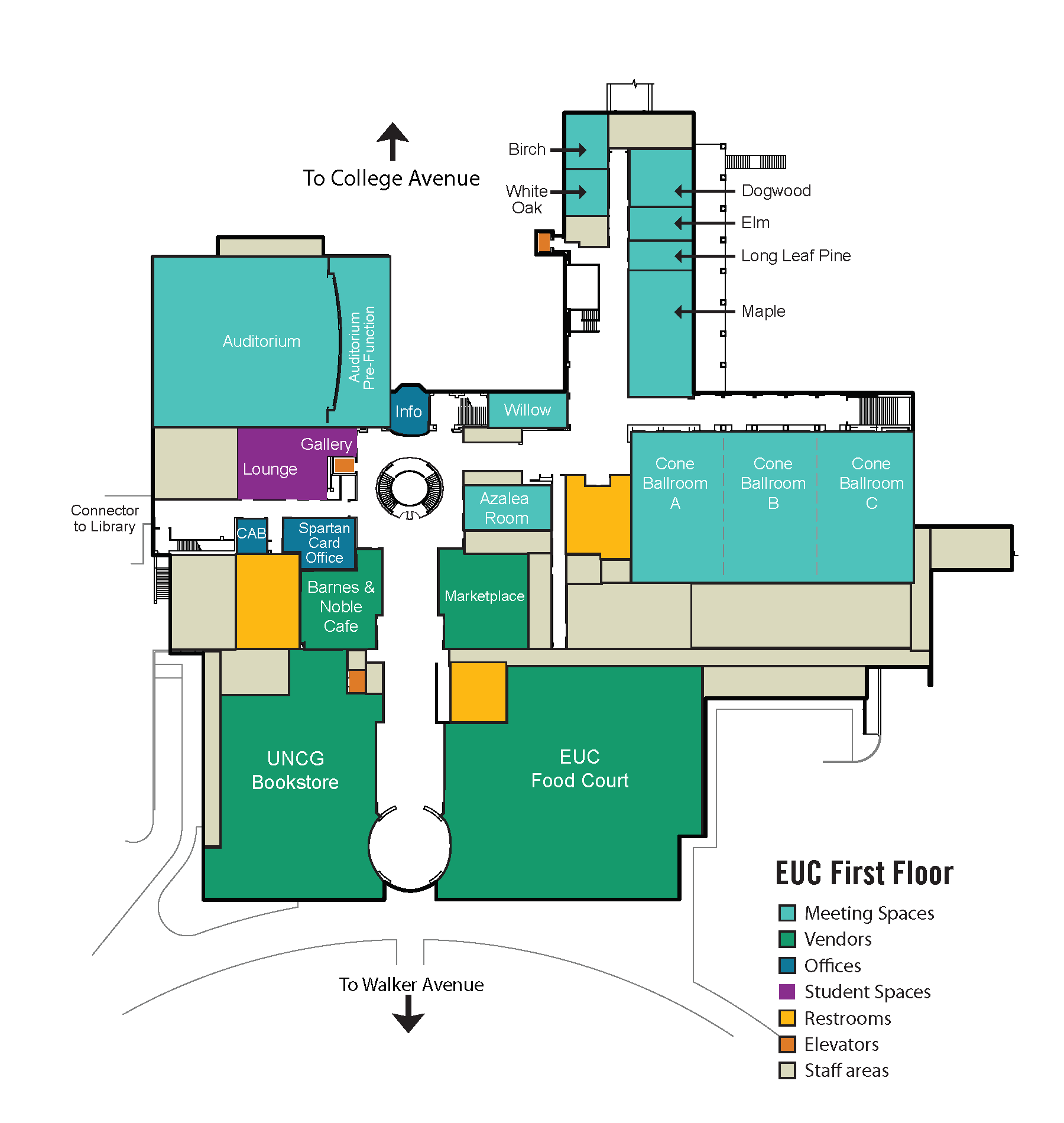 Layout of Elliott University Center - Ground Floor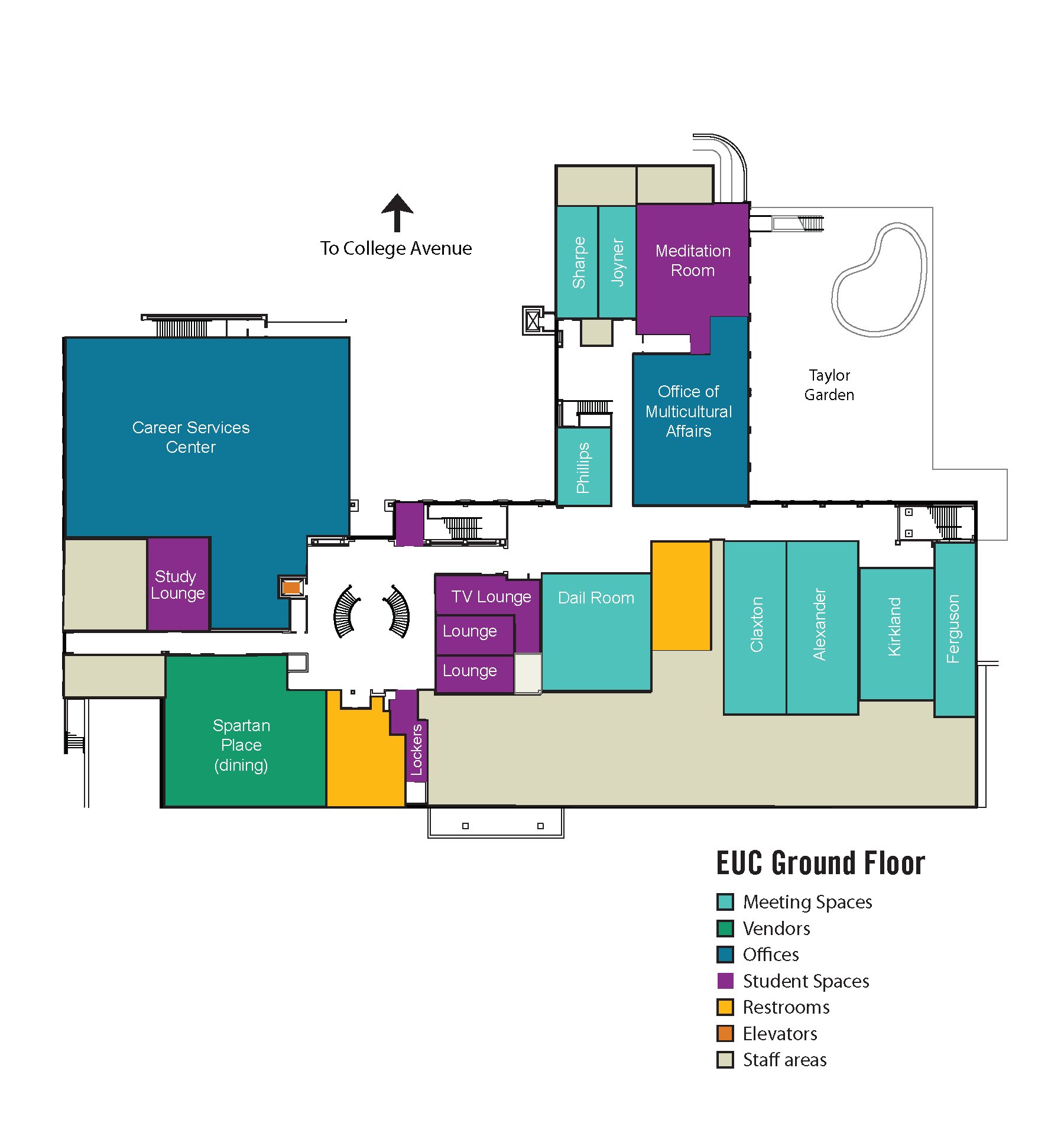 Parking
A 1-time exit pass for Oakland Avenue Parking Deck will be provided to attendees.  This parking deck is accessible from Kenilworth Street and Oakland Avenue, and the GPS address is:
711 Kenilworth St., Greensboro 27412.  It is a .2 mile walk from the deck to Elliott University Center
At NC LIVE, we work to keep conference expenditures low to boost accessibility for library folks from all around the state. Apart from offering free registration, NC LIVE has compiled a list of hotels close to the conference center with affordable rates.
Gate City Blvd Area
DoubleTree by Hilton, Greensboro
3030 W. Gate City Blvd.
Greensboro, NC  27403
336-292-4004
Drury Inn & Suites Greensboro
3220 W. Gate City Blvd.
Greensboro, NC  27403
336-856-9696
Friendly Center Area
O.Henry Hotel
624 Green Valley Rd.
Greensboro, NC  27408
336-854-2000 or 800-965-8259
Proximity Hotel
704 Green Valley Rd.
Greensboro, NC  27408
336-379-8200 or 800-379-8200
Wendover Area
Wingate by Wyndham
6007 Landmark Center Blvd.
Greensboro, NC  27407
336-654-5600
Holiday Inn Express - Wendover I-40
4305 Big Tree Way
Greensboro, NC  27409
336-854-0090
Springhill Suites Greensboro
6006 Landmark Center Blvd.
Greensboro, NC  27407
336-809-0909
Hyatt Place Greensboro
1619 Stanley Rd.
Greensboro, NC 27407
336-852-1443
Courtyard by Marriott Greensboro
4400 W Wendover Ave.
Greensboro, NC 27407
336-294-3800
Hilton Garden Inn Greensboro
4307 Big Tree Way
Greensboro, NC 27409
336-852-1491
Bed and Breakfast close to UNC-G
Double Oaks Bed and Breakfast
204 North Mendenhall St.
Greensboro NC 27401
336-783-9821
Libraries are embracing a future with fewer barriers to access; more inclusive spaces and communities; and collections and services that support a more diverse array of needs. The drive toward an open future is materializing in various efforts that span library departments and communities, including:
Lowering the cost of education through open textbooks
Restructuring systems to meet the needs of more diverse resources and users
Fostering partnerships to support underserved communities
Broadening collections to include voices that mirror the populations we serve
Investing in emerging technologies, services, and spaces that foster creative and critical thinking
Our 2019 theme, The Future is Open, celebrates these and other ways libraries are democratizing access to information for a more inclusive, diverse, forward-thinking, and open world.
---
See the archived page from the 2018 Annual Conference here.